Check Out Our Latest Announcements
Happy Thanksgiving!
There will be no school Wednesday, Thursday, and Friday of this week. Enjoy the Thanksgiving holidays!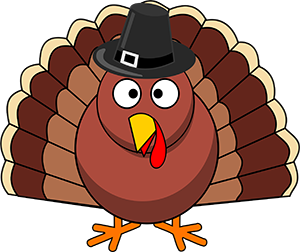 Lost and Found:
Please check the Lost and Found in the commons and the 6th grade hallway for missing items ! Anything not claimed by the end of the day tomorrow, November 22nd, will be donated to charity.
Homework Help:
Students at GMS needing help with homework have two outstanding options! GMS has tutoring available M-Th until 4:30pm. Students living in the city may ride the bus home and car riders will be picked up in the rear of the building.
Another option is Homework Hotline! Students can call, chat, or email for help M-Th from 4pm-8pm to receive help with homework.
Phone: (615) 298-6636 Chat: homeworkhotline.info Email: ask@homeworkhotline.info
Parents, please encourage your child to access one of these support services.
Yearbooks:
All yearbook sales at GMS are PREPAY only and the cost is $30. You can go to www.yearbookordercenter.com to order your yearbook online until January 19th.
8th grade parents: You should have received an email to upload a baby picture by the end of November through www.yearbookordercenter.com. NO pictures may be uploaded after November 30th.
Student Picture Retakes, Winter Sports Pictures, and Chorus Pictures will be taken on Friday, December 1st.
Cheerleading and Dance Team:
The GMS cheer leaders competed in the TMSAA State Cheerleading Competition last weekend. They finished number 1 in their division and are officially the East Tennessee Sectional Champions!
Congratulations to the Lady Devils Cheerleaders and their coach, Mrs. Tessa Carter!
The GMS Dance Team also competed. They placed third in their division! Way to go ladies!
Boys Basketball:
The Greene Devils battled Liberty Bell at GMS last night. The JV Boys fought a hard battle but came up on the short end of a 40-38 final score. Leading scorers were Damien Short with 9 points, Mason Laws with 8, Adjatay Dabbs with 7, and Landyn White and Drew Shelton with 6 points each.

The Varsity Boys beat a very good Liberty Bell team by a score of 59-49. Reid Satterfield led all scorers with 18 points. Cam Langevin scored 15 points, had 12 rebounds, and 6 blocked shots! Also adding to the winning effort were Jaden Stevenson with 10 points, Jakobi Gillespie with 8 points, Bradley Wells with 4, and Keelen Lester with 2.
Girls Basketball:
The GMS Lady Devils travelled to take on Ross Robinson last night.
The JV girls were victorious, winning 33-18. Leading scorers were Hailey Brooks with 10 points and Tanna Bookhammer with 8 points.
The Varsity girls faced a tougher challenge, but came up with the win 31-27. Leading scorers were Lauren Bailey with 12 points, Lindy Carter with 9 points, and Delana DeBusk with 7 points.
The Lady Devils will travel to play Liberty Bell on Tuesday, November 21st.
Library Book Fair:
The GMS Library will be hosting a Book Fair beginning Monday, November 27th and ending Friday, December 1st. The Book Fair will be open during school hours and in the evening on Thursday. It will close on Friday morning. This is a great opportunity to find gifts that will encourage reading!
Mrs. Morris is always looking for help working the book fair, so if you think you would like to help out, please contact the school, 639-7841 or email morrisn@gcschools.net.
Box Tops for Education:
Althought the competition has come to an end, please continue to save your Box Tops for GMS. You can still turn them in to the office at any time!
We raised $535.90 through our Fall Box Tops collection! Thank you to our GSIA, who counted and submitted all those Box Tops!
Fall Pep Rally:
GMS held a pep rally yesterday, featuring fall sports athletes, the band, cheer leaders, and the dance team.
Click here to watch a video taken by GMS parent Kelli Johnson.