Procedures for Enrolling at GMS:
To Enroll At Greeneville Middle School, You Must Do The Following:
1. Complete INFOSNAP on-line.
To access INFOSNAP, go to our system webpage:
You will see the following: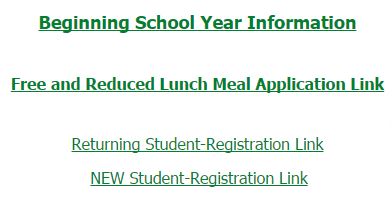 Select if your child is returning to our school system or if your child is new to our school system. Once you've completed INFOSNAP, you may choose to complete the Free/Reduced Lunch Application to apply for assistance. If you have questions or concerns about the lunch application, you may contact Shana at 423-787-8012.
2. After completing INFOSNAP, please come to the school guidance office with the following information:
· A copy of your child's birth certificate
· Your child's shot record on the TN form
· Your child's social security card
· Two forms of Proof of Residency – Driver's License, Voter's Registration Card, Lease, Deed
· If applicable, your child's IEP, custody papers
· If possible, your child's state testing scores or previous report card
For questions, please contact GMS at 423-639-7841.